We were on our way home. We took the country road around the lake to avoid a dozen stop signs. Just five miles away from home, about eights minutes, with only two stop signs. Only another car or two on the lake road too. And then, from the back of the mini-van, child #3 said he had to go number one, bad! Nothing around. No place to stop.
The plan: pull off onto the next dirt road that lead through the woods to the lake shore and let the lad pee from the side of the road. Boys just love that kind of thing.
More prompting from the back, "I gotta go realllll bad!"
"I'm hurrin'. Hold on."
Up ahead, there is a dirt road leading toward the lake. Whew! We're going to make it. Slow down, turn onto the dirt road and…crap! It's mud!!! All mud…deep get-stuck-in-the-mud mud! I had completely forgotten about all the rain we recently had. The van goes slippin' and slidin'. More sliding…more sliding. Won't this darn thing just stop? Go left. Go left. Come on. I'm turning the wheel left but we keep going right! Come on…and finally the wheels grip. Back towards the middle of the road and stop. Deep breath.
What have I gotten us into?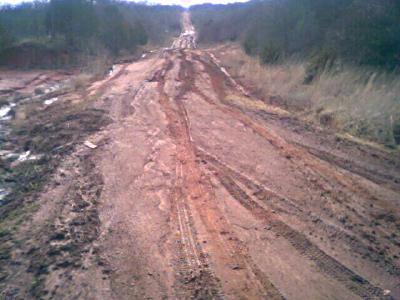 Laughing from child #2, the teenage daughter in the front passenger seat. Son starts laughing as he unbuckles from his seat and starts doing the potty dance. Me, semi-uncomfortable laugh, perplexed at what to do now.
Opened the side sliding door and let the boy do his thing from inside the van. "Cool!" he comments. Teenage daughter still smirking as only teenagers can do, as if to say, "Ha, ha! Dad's done got us stuck. What's he going to do now?"
There we were, sitting in a mini-van in the middle of a muddy road in the middle of a gentle hill. Don't think we can make it back up. Looks too muddy. At the bottom of the hill is a fork that looks dryer than what we are in. Slowly, in low gear we creep down the hill and turn onto the fork.
Firmer mud, some gravel, some almost-dry dirt. Less worry of getting "permanently" stuck. I know these back roads. There is another one out of here a ways down the edge of the lake. Oh, look the sunset looks pretty over the water. Oops. Better keep eyes on the road. Slow and steady, slow and steady.
After a half a mile, half dozen bends, and two small mud puddles, we pull around this little bend and off in the distance is this red pickup truck stuck on a small hill on the side of the road on the other side of a gully. Crap! Now what? The bottom of the gully looks just as bad, if not worse than the hill we came down. Mmmm…I wonder if I could make it?
These two good ol' boys are trying to rock their truck out. One driving, one standing on the back bumper. I don't know how they got off onto the side of the road. If they had just stayed just left of center they would have been fine.
Now what? There is no way a mini-van is going to pull them out. With them in the way, I'd get stuck too. Let's wait and see if they get out, then maybe I'll try the same stupid stunt too.
Nope. Still waiting.
The teenager asks, "How long does mud take to dry?"
As I roll my eyes, I say, "Daaaaaays…"
"Oh," she replies with a "brillant" solution. "Well…we have some Skittles to hold us over."
What else to do but laugh.
Do we wait or go back and try the hill? Oh, man! I just don't know about that hill.
The good ol' boys are still at it. Do I leave them behind? Will they be alright? Yeah, I guess so. They're good ol' boys.
Back down the road we came, a half mile and a half dozen bends and two mud puddles. Slow and steady. Back to the bottom of the hill and stop. Can we do this? Are we going to get stuck half way up?
At this point in my deliberations, the thought of having to back down that hill in reverse, in the mud, should have crossed my mind. It didn't. If it had…
Low gear. Slow and steady. Just keep it moving and we'll be alright. Okay…okay…are you sure about this? Only way out. Let's go.
The van started to move in the mud up the hill. Slippery but it was moving. Stay in the center. It was easier to steer going up than down. Going…going…we're still going. Yes. Keep moving baby! Just don't stop. Yessss…
Fifteen feet from the top. I see blacktop. Oh no! No!!! Don't stop…keep going…nooooooo…
Stopped dead. No traction. Nothing. Tires slipping. No movement. Nothing.
Now what?
Ever so slowly, I back up a couple feet. Let's try again. Slow and steady. Forward. Yes…nooooo… Stuck in the same spot.
Man! I do not want to go back down this whole hill in reverse. Try again.
Back down ten feet or so. A little more gas this time, but not enough to loose control. Good…good…moving forward…keep going…come on baby…keep going through that spot. Yes! We're past that! Keep moving…ten feet…slowing down a little. No, no, keeping going. Please Lord…please Lord…please Lord… A little slower, but still steady. Five feet. We just might make it. No, don't get your hopes up yet. Three, two, one…blacktop! YEAH!!! Cheers from everyone! Dad's the hero.
It felt like a touchdown.
Whew…
Thank you Father for watching out for this fool.