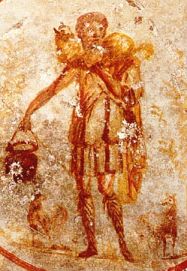 The Good Shepherd
Catacombs of Rome, 284 AD
The Savior, thus the good pastor,
which means the good shepherd,
Carries this sheep on piggyback,
the sheep that was lost,
that was going to get lost
So that the stones in the path
wouldn't bruise its bruise feet.
Because there will be more joy in heaven
over one sinner who returns,
Than for a hundred righteous ones
who never left.
Because the hundred righteous ones
who haven't left will have remained.
They will have remained only
in faith and in love.
But the sinner who left
and who almost became lost
By his very going away,
and because he was going
to miss the evening call
He aroused fear and
thus he caused hope itself
to spring forth
from the very heart of God,
From Jesus' heart
The shudder of fear and the shiver,
The tremor of hope.
Because of this lost sheep
Jesus experienced fear
in love itself.
And the kind of tremor
that divine hope creates
in love itself.
And God had been afraid
he'd have had to condemn it.
By this sheep, and because
it wouldn't return to the fold,
and because it was going
to miss the evening call,
Jesus, as a man,
came to know human anxiety,
Jesus made man,
He came to know what anxiety is
in the very heart of love,
The gnawing anxiety
in the worm-eaten heart of love,
But thus he also came to know
the very first hint
of hope's awaking.
When the young virtue hope begins
to rise in the heart of man,
Under the rough bark,
Like the first bud of April.
— Charles Péguy, from The Portal of the Mystery of Hope