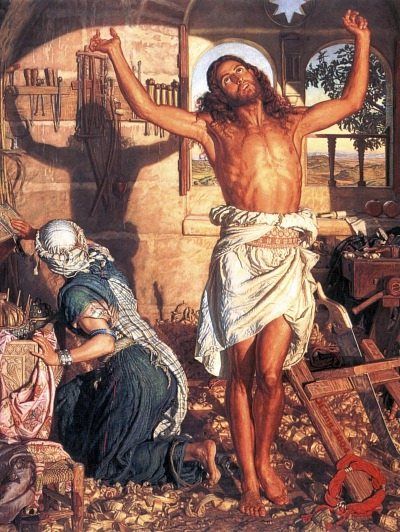 The Shadow of Death, by William Holman Hunt, 1873
Lent ends with the Easter Triduum—Holy Thursday, Good Friday, and Easter. The whole life of Jesus leads to the Cross. This painting reminds me of that in a poignant and real personal way that only art can sometimes do.
Some items to take note in this painting (See a larger image):
The woman is implied to be Mary, his mother. She has caught a glimpse of the shadow on the wall and paused her search within the chest. Is she contemplating the foreshadowing of her son's crucifixion? Is she remembering what Simeon said to her and Joseph when they presented her baby in the temple?
The fine linen in the lower left draws the eye up to Mary's hand on the chest. Are those the gifts of the Magi inside? She knew the prophecy that her son would be king, and she is looking at the gifts for a king, but the juxaposition of the shadow of death and suffering—is she recalling the servant songs in Isaiah? Is she recalling the words of her Magnificat?
The Christmas Star, not a Star of David, is above the pillar between the windows, a reminder of his name Emmanuel, "God with us."
See how the window creates a nimbus or halo effect around his head.
The pomegranates on the right side, just below the window. Pomegranates are often depicted in images of Jesus and Mary.
Next to the pomegranate is the scroll with Isaiah's prophecy. It is also an allusion of Christ as the Word of God.
I wonder if the tree in the window is an olive, fig, or pomegranate tree?
Are the spindles in the window an allusion to the pillars in the Temple in Jerusalem?
In the lower right-hand corner, at the foot of the sawhorse lies a scarlet fillet that is part of Christ's head-gear. Foreshadowing the crown of thorns?
The reeds and cane in the corner on the left.
Within the shadow on the wall, the loop around his neck alludes to images of the brazen serpent that Moses held up to heal the Israelites.
The curls of wood shavings appear as a snake with its head being crushed under his right foot, victory over sin and death.