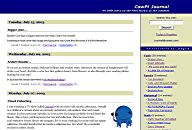 The old CowPi v1.0
Welcome to CowPi Journal, version 2.0, a complete redesign of every Movable Type template, style sheet, module, etc. Nothing was left untouched.
The biggest changes include the framing around the content with a color background, the horizonal navigation bar under the page header, and the CowPi logo. (Do you like the logo?) The styling of nearly every link has been standardized: red for unvisited, blue for visited. All links to external websites and to the CowPi archives have been moved to separate pages. Each journal entry has two links to its individual page (i.e. permanent link), one through its title, and the other through its date. And finally, none of the archive structure has not been modified. (Don't want to break any old links.)
If you find any clitches, please let me know.