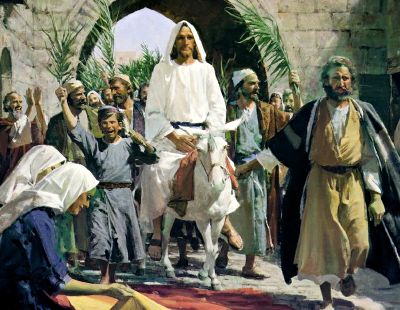 "Hosanna! Blessed is he who comes in the name of the Lord." (John 12:13)
Compare Palm Sunday with Easter Sunday.
The praise and glory the world gives is fickle and temporary. There is a lot of noise and flash, pomp and circumstance. The energy is directed externally, flowing outward like a shout, and disipates. It is self-generated by the crowd and limited.
The praise and glory that God gives is the exact opposite. It is eternal and true. It is quiet and humble. There are no earthly witnesses. The energy is directed internally, flowing inward to build up so that it will spread and be shared. Its source is unlimited.
To go from Palm Sunday to Easter Sunday requires the passing through the threshold of the Paschal Mystery. To find joy, happiness, victory, and life, we must pass through suffering, pain, defeat, and death—only through the Cross, only through Christ.
Amen, amen, I say to you, unless a grain of wheat falls to the ground and dies, it remains just a grain of wheat; but if it dies, it produces much fruit. (John 12:24)