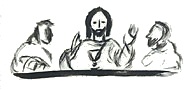 Last night was my first time as an Eucharist minister to distribute the Bread during Communion. I felt unworthy, even after going to Reconciliation before Mass.
Wow! What an awesome feeling to be in direct service for the Lord and for the community during worship. I tried my best to smile and look in the eyes of every person when I held up the Host and said, "Body of Christ." There was something that happened in that ever so brief moment of eye contact that words cannot describe. It went something along the lines of: I believe; you believe; here He is, the Bread of Life; touch Him in Faith; I want to live, to be healed. My heart seemed to sing with joy everytime someone responded with "Amen."
Thank you Jesus for the opportunity to serve.